Need advice? Call our experts free on
0800 090 1342
Swindon housing estate starts petition for fibre optic broadband
An online petition has been set up by residents in North Swindon campaigning for BT to install fibre optic broadband.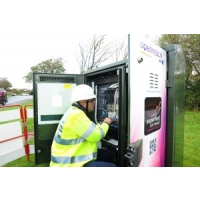 An online petition campaigning for fibre optic broadband has been set up by a group of residents in North Swindon.
Disgruntled internet users from the Priory Vale area of the town are trying to persuade BT that there is enough demand to install the superfast service.
Locals claim it is high time their connection is upgraded. Top broadband speeds rarely surpass 2Mbps and some households even continue to rely on a dial-up connection, while nearby areas have download speeds of around 100Mbps.
Speaking to the Swindon Advertiser, Priory Vale resident Peter Goodfellow said: "The download capability of fibre optic is phenomenal. It is the backbone of the country and we need this petition to send a strong message that we need it."
Mr Goodfellow went on to explain how local enterprises in the area are struggling to stay competitive because of low speeds.
The petition has now gained nearly 100 signatures. However, with a population of 10,000 in Priory Vale it is likely a great deal more will be needed before BT's mind is changed.